Heard many times across the world, family farms are shutting down, either being sold off, or going into a vast unknown territory of corporate farming.
Who knows what type of treatments they do to the food, animals, and workers at these farms because it's nearly impossible to visit them because of tight-knit "privacy" and "corporate" legal policies, surrounded by a myriad of women and men in suits who ride fancy SUVs and do not care about the plight of local farms. They don't have food stamps and suffer through bad quality products either.  I've seen first-hand the struggle of senior citizens and low-income people trying to find affordable, good organic, produce.
Bill Morris, 77, of Deep Cove Farm in Churchton, MD, sits and watches shoppers by pass by at the Anne Arundel County Farmer's Market in Annapolis on Saturday morning, and waves to the regulars he's seen for over 25-30 years in western Maryland.  Some of the regulars have their own kids and he's seen their children grow up with their children too.  He's seen generations come to this farmer's market.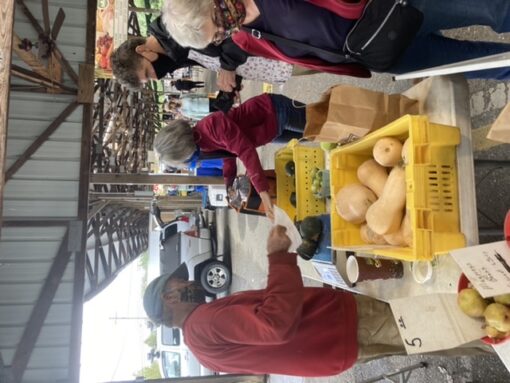 It's hard to not feel sorry and empathetic for the plight of the local farmer today. All this effort, all the work involved, and little to no rewards and recognition for all the climbing, boxing, cutting, digging, and storing going on behind the scenes.
Morris climbs up and down the truck, sorting boxes, and carefully storing his income in a metal tin box, just a usual routine he's done for over 30-40 years.  His wife was not there during the market because she's ill. He said she would like to move back to upstate New York.
"We're both old. We got cows that would have to move. I inherited this property. It doesn't bother me to move. It's just we're old and sick," he said.
Morris inherited the property from his grandmother in the 1940s. He was only 5 years old when he started at the farm.
"I enjoy what I do. You got to enjoy what you do," he said. "I'm 77 years old and this work sometimes kills me," he added.
He observed that younger generations sit behind the computer and make good money. He doesn't blame them. He said he's not sure if anyone can just do farming as a full-time, single income business anymore.
He owned a construction company for 30 years and it helped him a lot.
"It helps when you have other money coming in. You need some other income coming in. Labor is the biggest cost."
When asked about national discussions around a $15.00/hour federal minimum wage standard, he said it's great but you'll have to "charge more for your product," he said. "I always paid my people well and I always gave them free food," he added.
Morris said he forecasts more corporate farming taking over land than family farms. To him, it's about the population boom. Western Maryland is not a bedroom community. It's just too populated now.
With all this population and pollution that comes along with it, the Bay takes a beating. Thankfully, the Maryland Department of Agriculture has a cost-share program.  Morris said he supports it because there's a lot of work to build healthy soil. MCAS helps offset some of the costs for conservation practices.
"Seeds have gotten expensive, no matter what it is," Morris said.
(Disclosure: It's really confusing times on what the Trump administration is doing with clean water and clean air. Farmers have been vocal about the age-old uses of pesticides and fungicides, what it means for impacting endangered species too.  Hopefully if an EPA expert is reading this blog, there can be some insight please reach out to me, kimkweder@gmail.com).
Morris said if he could do it over again, he would consider wheat, hay, and corn because there is no back-breaking labor because the machines take care of the fields.
At his farm, the heirloom tomatoes are his golden prize and they are fragile. He values the quality a lot.
What does the future hold for his 11-acre farm?  For one, he said his son doesn't want to take it on. Actually he said, he did not encourage his son to be a farmer.
In the meantime, there's still a few years left at this historic farm. Shoppers can still find citronella plants, apples, plums, peaches, blackberries, concord grapes, butternut squash, heirloom tomatoes, spaghetti squash, kale, collards, pears.