It's hard to describe the excitement upon visiting the fields of strawberries that capture Miller Farms of Clinton, MD, on a balmy June afternoon.  Since 1879, Miller Farm has attracted many people with its fresh Pick Your Own strawberries. A packed parking lot shows the signs of what people came here to accomplish, as well as a sprawling line of customers at the soft-serve ice cream stand.
I couldn't think of a better way to celebrate the strawberry season than with my long-time friend Maddy and my boyfriend Luca. We were on a quest to find the strawberries hidden among the rows.  There were other fruit pickers, with masks on their faces, which I thought was really extreme. It is hard to believe one could actually catch COVID-19 in an open field!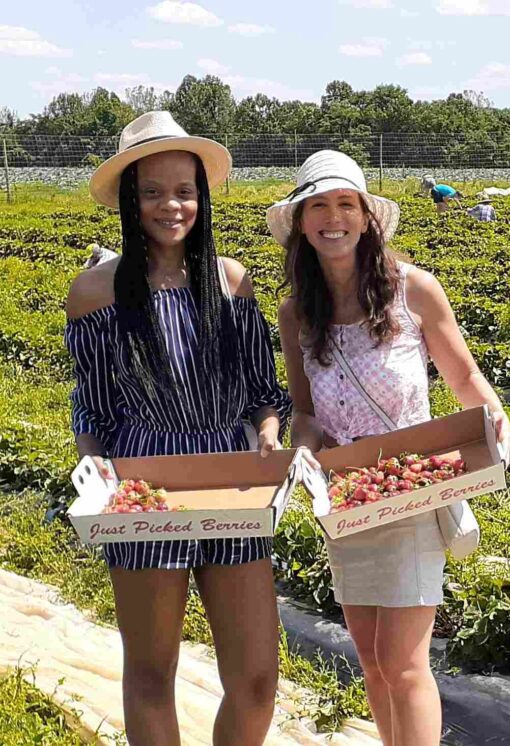 We were greeted by a farmer at a tent where we picked up boxes to fill up with strawberries. Our first destination to start at the very far end of the field because we thought no one would walk as far. Well, we were surprised.  We found more strawberries in the middle of the field!  The strawberries tasted so sweet and delicious.  I picked up around 3 pounds (1.3 kilograms) for just $11 this year.  I managed to produce two 8-ounce strawberry jams from my box.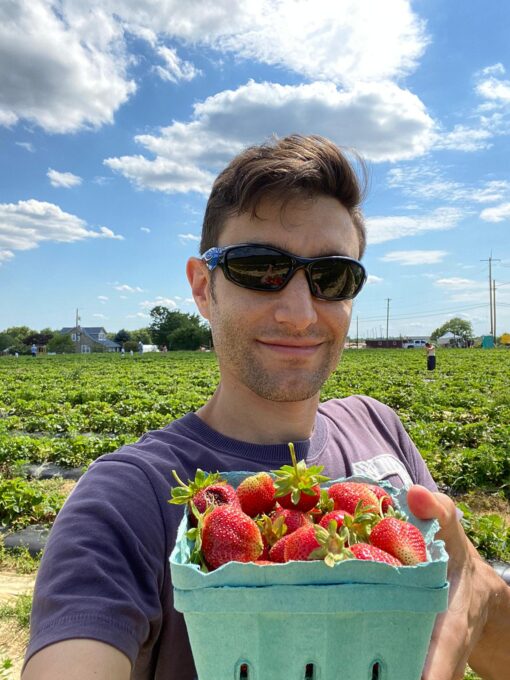 During the time picking strawberries, I thought of how nature battles on despite climate change and limited access to open land in a world of 8 billion people in 2020. I also wondered about why I have not pursued pick-your-own strawberry field as my own entrepreneurial idea. This year, the strawberries were in great condition and in a bountiful supply.  I am amazed at year after year, people find comfort and solace in berry picking, the simple pleasures of eating this sweet fruit, and driving many miles just to touch nature and experience a farm.
My dream is to have a garden where I can sell flowers.  Luca is central to my life!  He is from the beautiful country of Italy where his coastal country meets great food, wine, and soil. I love Italy and hope that I can visit Tuscany and grow something meaningful for people and they can be excited and create new memories filled with simple pleasures like a strawberries and strawberry jam.