What better way to spend a rainy Sunday morning than to make warm apple jam?  It's our second year making apple jam and this year is very exciting for "Christophe's Homemade" because we have a "home" for our jam jars at Heyser Farms!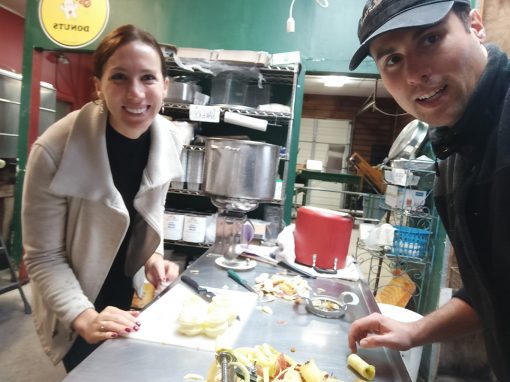 Last year, we sold our jam at the Riverdale Farmer Market as a "test pilot" to get customer reactions. However, it was a short-lived experience because we didn't want to spend money on having a stand at the farmer's market and waiting to re-coup our costs. We also tried to apply to the Greenbelt Farmers Market but when we saw it's $250 to have a stand for the season, we decided against that! And we couldn't give out any samples anyway because we didn't have a sampling license.
This year,  with working at the farm on Saturdays, I was able to turn my baking experience here into a creative path for experimenting with my husband's delicious apple jam recipe.  Mike the farmer let us cook in his commercial kitchen over the weekend.  We bought the supplies and he supplied the apples (of course!) for us.  We had a whopping 15lb basket of apples to wash, peel, and cut!
Making apple jam is a lot of fun. We use a variety of apples — Cortland, Golden Delicious, Stayman, and Spencerville Red.  The combination of tart and sweet is what we are looking for in our jams.  Another important ingredient is the cinnamon.  We also use a thin slice of vanilla bean and a couple pounds of sugar (about half to less than half of the weight of the apples).  Yes, we also sprinkle in a little bit of pectin too but not too much because apples have natural pectin!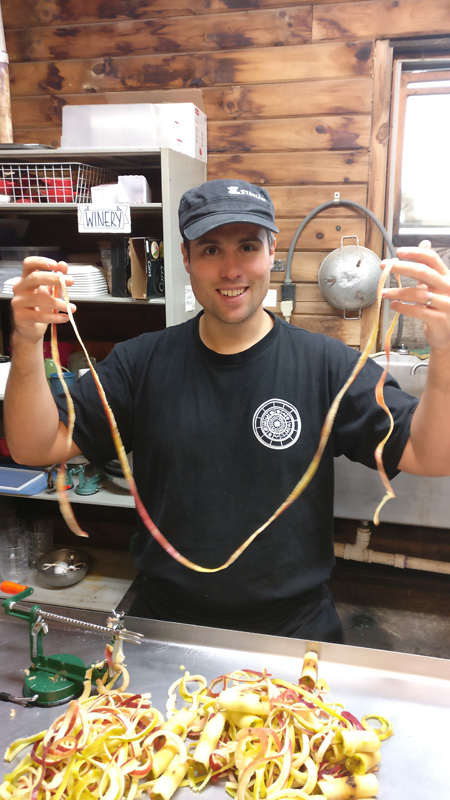 Next, cooking is the trickiest part.  It's very important to monitor and stir constantly. After about 20 minutes on high heat, the jam starts to thicken up.  The apples start to get soft and flexible too.  Then it's time to carefully pour the jam into the individual jam jars!