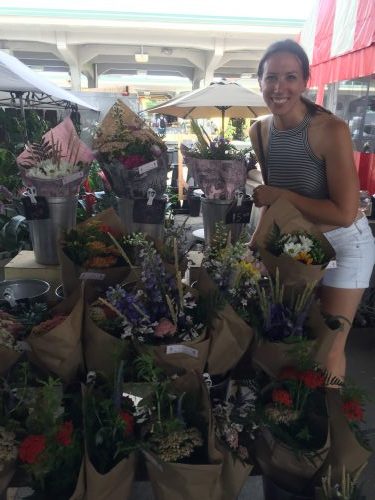 Montreal, you stole my heart with the food, culture, and people! I enjoyed the finer things of life by indulging in the simple pleasures of walking up the cute staircases of an apartment building and chilling out on a friend's balcony with snacks,  joining in the community of the Bixi bike riders crossing back and front through Mile End, Plateau, and Little Italy, tasting fresh oysters from all around East Coast Canada, West Coast, and East Coast America … and smelling fresh flowers and strawberries at the Jean Talon market, and oh, the cheese!  I feel transported to Europe while staying in North America.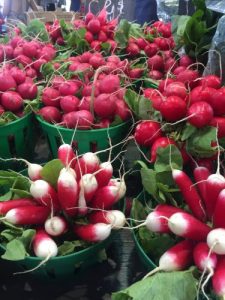 Short on time? No worries! It's easy to capture the core of Montreal's food and art scene in just under 8 hours.  Here's how I did it:
I arrived at the Gare d'Autocars at 1717 rue Berri and just across the street, there are Bixi bikes. A day pass is $5.25 CAD and there's a security deposit of $100 CAD on a credit card (which is returned after 10 days).  The first stop: Old Montreal. It's an easy bike ride but once you get to Jacques Cartier it's best to park here. There aren't many Bixi stations in the Old Montreal and it's also crowded, narrow with a bike, and a lot of construction projects.
Swing by the Maison Christian Faure for a buttery, flaky croissant or it's too busy try your luck with an on-the-go pastry and coffee at Le Petit Dep where you'll be really tempted to buy candies there! After a quick late morning snack, browse the multiple galleries all along rue Saint-Paul.  There are some graffiti art to be expected — Rock Therrien mixes Disney with gritty graffiti. I can't remember which gallery it was but it was across Le Petit Dep and not to far up.
My favorite gallery is the Galerie Beauchamp because Martin Beupre's art takes to on an imaginative and mystical journey to Japan with his mix of white snow-capped mountains, geisha, and crystals.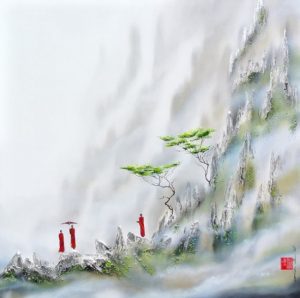 Along the road, stop in some of the high-end fashion boutiques to try on signature dresses made by Montrealers. I spotted one for $200, unfortunately too much of my budget for this trip! Maybe next time!
After a wonderful journey to the "old Europe",  my friend and I walked just about 10 minutes to a metro station Berri-UQAM and traversed the orange line to Jean Talon station.  A one-way ticket is $3.50 CAD (last updated July 2019).
Jean Talon is jam-packed with fresh fruits and vegetables, mouth-watering seafood, sandwiches, cheese, jams and other preserves, pates, and beautiful flowers and people!  Be prepared to wait a while for food because it's so busy at the lunch hours.  The best part was trying those delicious oysters at the outdoor stand, La Boite Aux Huîtres.  Seating is limited so be sure to work your patience!  And — no alcohol is allowed!
Another great part about an 8-hour trip through the city is the Bixi bikes because all the streets are flat and there are designated bike lanes. From Jean Talon, it's a simple ride through Little Italy. My favorite streets were Alma, St. Denis, and St. Laurent. Zotique bar has a large selection of beers from triple belge blanche to a simple pilsner or IPA for around $5-7.
After relaxing under an umbrella with a cold beer, it's off to visiting Dieu de Ciel! and hands down, this is my highlight of the day.  I was transported to a "Parisian" cafe where it's packed with people from all ages and they are huddled around small wooden circular tables and drinking, talking, and just letting the hours go by lazily. I ordered a blanche beer with some hints of hibiscus. It was not sweet at all — just a hint of floral and refreshing!
Now it's almost time for supper and a friend suggests potato gnocchi for just $5.  How interesting to have a little shop selling gnocchi!  Here we are in front of an open window and the cook is dipping a large spoon in a pot and pouring the gnocchi in a Chinese to-go-carton. The weight of that carton was so heavy it was impossible to eat all that gnocchi in one sitting.  Apparently, Drogheria Fine has been around Mile End for quite some time for nearly a decade.
After relaxing a bit at a nearby apartment we rode bikes through Avenue du Parc-La Fontaine where so many people were enjoying the nice weather with picnic blankets, guitars, and their dogs!
Well, that sums up the 8 hour trip.  The rest was just finding places to dock the Bixi bikes and waiting for the bus to arrive at the station.  There is a lot you can cover for 8 hours!  À bientôt, Montreal! See you again!