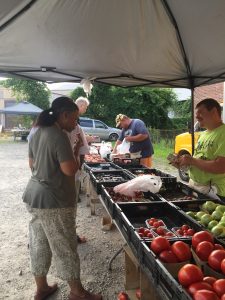 I met with DJ Jodikinos, owner of Jodikinos Farm at the West Homestead Farmer's Market in Pittsburgh. His farm is located in Clinton, PA, about 40-45 minutes from West Homestead.
He owns 250 acres, 50 acres which he rents off a dairy farm. Over 70 acres is just of corn.
They work at 7 farmer markets every day of the week. What makes this farm successful is that it was passed down from one family generation to the next. This farm is family owned since 1947.  He has 4 kids, one is 13, 12, 11 and 8.
Business advice
His best advice for someone starting out without any experience is to do urban farming. It's small scale and you can see how the operation works on less responsibility of the land. "If you own a lot of land it could get too big and too overwhelming," he said.
Another piece of advice he gave was to try out a vocational tech school for greenhouse landscaping. The ability to have the tools and techniques are valuable during the off season when growing seedlings in the greenhouses. He starts the growing process indoors in January.
Then, a new farmer has to worry about the economics of farming. Nowadays, the business is getting tougher.  He said there is a lot of competition, and many people have a lot of options.  The big chains like Walmart are also a problem because people can buy any produce anytime of the year.
Then there is also the stress of the weather. Mother Nature can pay a toll on  his stress. It's also a big financial commitment to make farming a business. His operation has 14 tractors and and 18 trucks. They also have an accountant for managing the taxes.
The perks
One of the perks is that permits aren't too hard and as long as wages and earnings are reported to 100 percent of farming then there's no big worries. He actually receives tax credits for diesel fuel.
Price and Quality
Although the farm isn't certified organic, they try not to use pesticides on leafy greens and their peaches.  They do use pesticide on the corn to avoid worms.
Pricing Strategy 
Well, when my mom and I visited she picked up 8 ears of corn for $4.00.  The peaches were a $1 a piece. Each bushel was $5.00.  Not too bad, huh?