Francis Myles is a living legend at the Anne Arundel County Farmers Market. He's a local celebrity in the community, for after all, he has been in the farming business since 1945. He was only 15 years old when his father passed away and he had a great responsibility to care for his little sister, who was only 6 months old at the time.  All of his 5 younger siblings had a role in keeping the 85-acre farm alive in Capitol Heights, MD. He took great care of his siblings and his plants together.
"Everyone had to do it. It was a necessity to live," said Myles, owner of Myles Produce.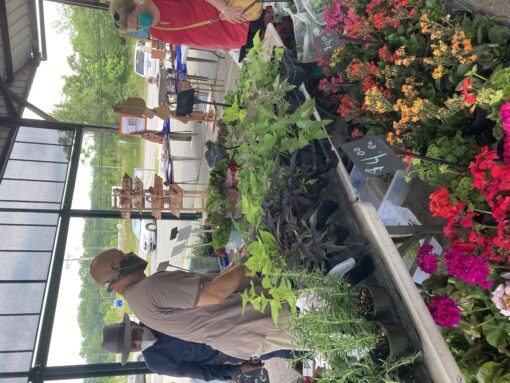 On a typical Saturday morning, shoppers can find beautiful begonias, brightly colored petunias, kalanchoes, caladiums, geraniums, as well as lettuce, kale, and a mix of herbs like sage, rosemary, and mint.
When asked about the competition of shoppers going to department stores Home Depot or Lowe's for plants, he calmly and proudly expressed confidence in his quality of plants.
"Look at the plants. Look at the produce. It speaks for itself, people know the difference. I'm taking care of them constantly," he said.
As he was being interviewed, there was a steady flow of customers picking up not just one plant, but multiple plants fitted neatly in a box and full of smiles and satisfaction.
His business also operates a roadside stand 7 days a week in Harwood.  He said there is an "honor system" where people put the cash in a box and pick up their plants, too.  He's built a lot of trust with customers and has a great success.
In the summer months, they sell squash, cucumber, tomato, watermelon, because flowers aren't enough to keep the business going.
For Myles, plants are more than beauty. It's a sanctuary. What's kept him going every day is his sheer joy for growing and faith.
"I try to grow everything nice and fresh to the best. I spend a lot of time on produce and pray everyday when I go into my greenhouses. I'm a preacher too and a pastor," he said.
Myles said there's really no secret to being a farmer.  It's about perseverance, he said.
"Keep working at it. Don't give up! If you don't succeed, try again. Every year is not the same. You have good years and bad years," he said.