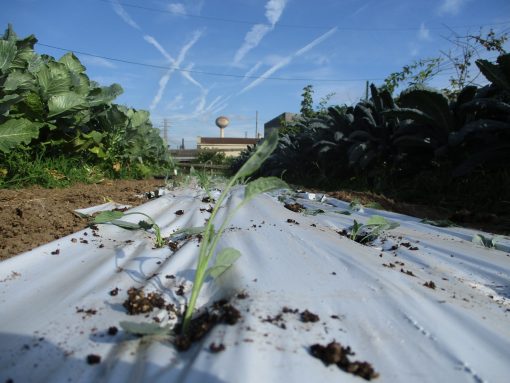 I had the opportunity to volunteer at the Grow Pittsburgh's one-acre Braddock Farms in gritty "steel town" Braddock.  Yep, this farm is nestled right next to one of the last operating U.S. Steel mills in Pittsburgh.  It's a beautiful concept to see this 10-year effort blossom and support local agriculture but at the same time, I am very cautious of how Braddock's future is looking. Around the corner, I see distillery/brewery and a high-end restaurant (which is buying the garden veggies for an expensive price) but nothing else looking like a community-driven, self-sustaining, environmentally friendly playground for residents.
The biggest question I had for the farm managers: Does the pollution from the Steel Mill affect the crops?  Well, not exactly, the farm managers said.  The diesel fuel from the trucks that roll by is more of a concern than the actual plant.  They've done soil testing and discovered no contamination, thankfully.  They do recommend the buyers wash the produce before eating of course!  In the upcoming months, Grow Pittsburgh plans to do plant tissue tests to really example the plant's nutrient contents and if atmospheric pollutants are a culprit.  I asked the farm managers if U.S. Steel Corporation has played any role in supporting the work here. Sadly, there is no corporate social responsibility going on.   With all these corporations in America setting up CSRs, you would think there would be some interest.  Of course not!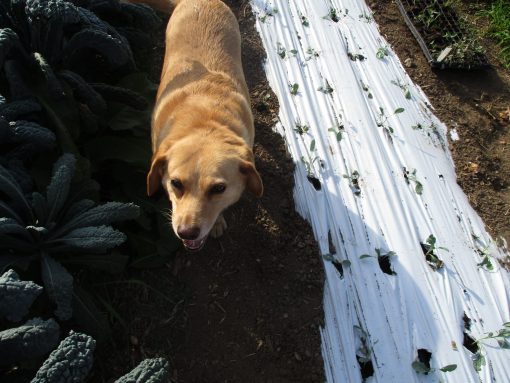 In my opinion, things are not looking brighter for Braddock, but rather sadder.  I read hydraulic fracturing is coming to Braddock just a few miles away from the garden and it's causing a ruckus with the local community.
And the municipal water? Hmm. I tasted some and it's kind of funky.  Thankfully they had some bottled water in the shed.  I am not sure what's going on with the water here but it's not tasting fresh.
Despite these  ordeals, it's exciting to see so many vegetables and fruits thriving in this one-acre plot. I saw raspberries and I heard they had strawberries earlier. They are growing onions, zucchini, tomatoes, carrots, parsnips, swiss chard, and beets. There are so many other abandoned buildings around here I wish that more land could be given to Grow Pittsburgh and more paid staff to make Braddock clean and vibrant for future generations.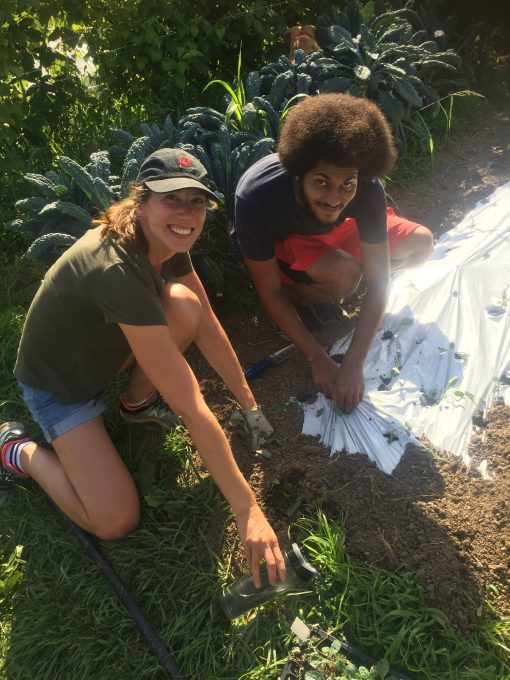 Today's volunteer project was setting out the Black Magic kale seedlings into their rows under a nice slab of white plastic mulch covering.  White reflects the sun so that helps with controlling heat. They also tried silver metallic plastic mulch coverings for other plants to detract the animals from coming by. After we planted the seedlings, we placed hoops, added a tarp, and sand bags to anchor and protect the area.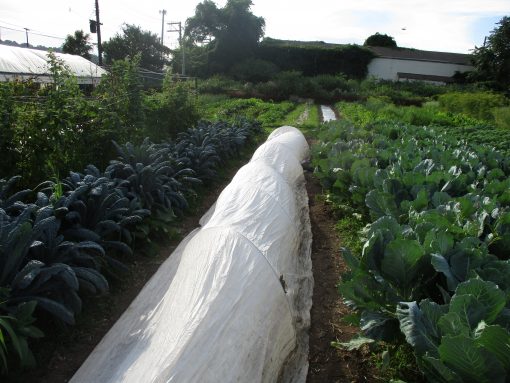 I hope to see more young people getting involved at Braddock Gardens and ask a lot of questions on how to do organic farming. There's no doubt our planet is warming and it's affecting our biodiversity. I couldn't help but just think of how important it is for plants to maintain stable CO2 levels. With warming, CO2 levels rise, and it affects the plant's ability to "cool off".
The team uses organic soil amendments, including feather meal and blood meal to help with nutrition.  Vermiculite in seed starting soil also helps with retaining moisture for young seedlings.