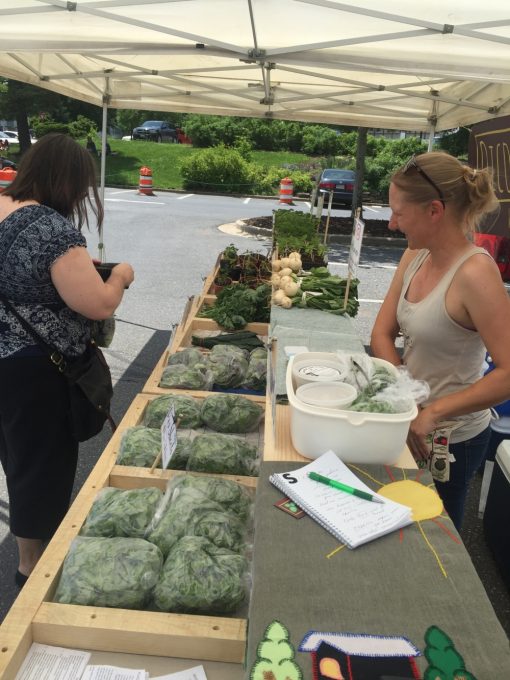 I caught up with Meghan Ochal from Dicot Farm at the Greenbelt Farmer's Market on Sunday.  Her and Erik de Guzman run a farm stand here and they have tasty pea shoots and cherry tomato varieties for sale. A beautiful handmade table cloth from Chile adorns the table.  They said that this market is "much better than the College Park one!"  It is their 4th season selling produce.
How many acres is your farm?  24 acres, of which  6 to 7 acres are cleared, but only 1-2 are in "active" veggie production right now.
What do you sell? We sell spinach, spicy salad, radish, kale, herbs, pea shoots, turnips, bok choy. We sold out of bok choy today! Pea shoots and spicy salad are the more popular items.
What do you like about farming?  I like being outdoors (I used to work for government for 11 years). I like seeing the impact of my work and being practical and feeding people and talking to people about where their food comes from and the environment.  I met Erik 6-7 years ago and we wanted to move towards this lifestyle. We've owned the farm for 4.5 years.  Our farm used to be a tobacco farm.
What's your style of farming?  We have a high tunnel to grow salads and tomatoes. We got a grant from USDA called Conservation  EQIP (Environmental Quality Incentives Program). We used that to build the high tunnel. We also built a barn and started using a packaging/washing process thanks to a Marbidco partial grant.
What do you dislike the most about farming?  There's nothing you can do to control the weather. It's really hard work but I truly like seeing the results, working the hours in the field. We're tired and in pain but we knew this going into it!