I caught up with Misty Padilla, an intern at Mountainview Farm, who works at the U street farmers market on Saturdays. I was surprised to learn that the AmeriCorps has an opportunity for people to serve specifically in conservation  and farming practices in the country.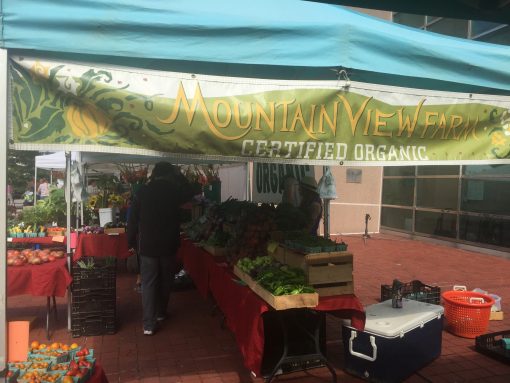 What is your name? Misty Padilla
Where is your farm? Purcellville, VA
How many acres?  5 acres of vegetables, but we also lease part of the 900 acres from a nature reserve, which connects to the Appalachian Trail and nearby Harpers Ferry, WV.  We also have 14 acres of pasture where we keep goats and cows.
What do you sell?  We sell heirloom tomatoes, squash, cucumbers, potatoes, sweet peppers, hot peppers, beers (which I think are very good!) onions, leeks, shallots, and herbs (lavender and basil today). We sell eggs at the Bloomingdale farmer's market on Sundays.
Are you certified organic?  Yes, 100% organic
What's the best thing about farming?  Being connected to earth and seeing where my food comes from. It's important to have this connection. It's a full circle.
What's the worst thing about farming? Rain or shine, hot or cold, we are out working on the fields. We were outside in the downpour yesterday and still had to get work done even though I was covered in dirt!
How's business going?  We are in the 11th season and our profit is up to $1,000 to date this season.  Attila Agoston and Shawna DeWitt are the owners of Mountainview Farm and they have been successful at three markets in DC, on at U street on Saturdays, another at Penn Quarter on Thursdays, and Bloomingdale on Sundays. We are open April to mid-November.
The owners also have a AirBnB businesss we rent from the Blue Ridge Center. There are guests sleeping over for weddings and other celebrations.  There are also local wineries and Harpers Ferry too.
Misty went on to say she's happy about her internship and explained a bit more of her background. She holds a bachelors in Environmental Sustainability.  It's great to see young people like her very active and motivated to do farming! Previously she was enrolled in the Montana Conservation Corps, run by  AmeriCorps.
In the near future,  she'd like to work for a nonprofit that combats food deserts or focus on free range farming. She's inspired by the work she's done at Montana Conservation Corps. She encourages people interested in farming to "do a lot of google searches" and to visit attra.ncat.org on how to find internships at organic and sustainable farms.  Her internship is paid monthly and she has free housing.