One of the most iconic fish markets in Pittsburgh is entrenched in the heart of the Strip District, where shoppers can find fresh Scottish salmon flown in just under 48 hours.
Upon walking in the entrance of Robert Wholey & Co Inc.'s store, one is instantly overwhelmed by the over 300 varieties of seafood iced and packaged carefully behind high glass counters with friendly fish cutters ready to serve at a moment's notice.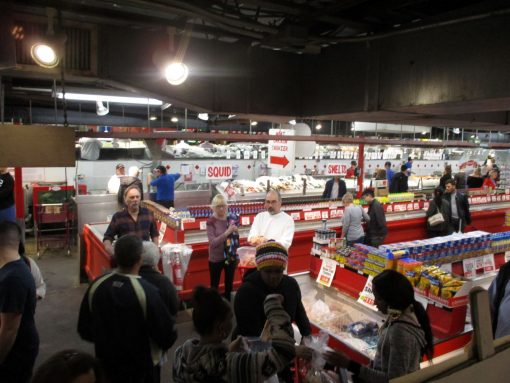 Quality has been a premium for Wholey's Fish Market; for a solid 25-year journey there have been no recalls on their seafood. Seafood Manager John McNally has attested to the company's strong quality assurance checks every morning on the freshness of the fish.  Aside from the buying, pricing, and scheduling functions of the job, he said the dedication to customer service has made the business last long, stable and affordable.  Pittsburgh also has scored big on freshness thanks to its location; the city is relatively close to their two main suppliers in Virginia and Massachusetts, equally 8 hours distance in driving, he explained.
"Seafood is still a great bargain despite what's going on with regulations and availability," said John McNally, Seafood Manager at Wholey's.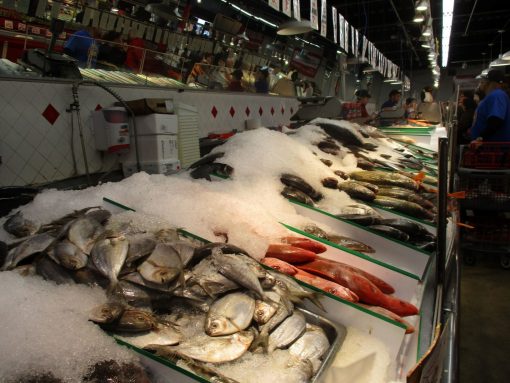 There are plenty of changes in today's market from tightening — as well as loosening — different regulations. For example, the first genetically modified salmon, called "Frankenfish,"  has been released for public consumption, and has FDA approval.
"Is it dangerous? We don't know. Are we going to purchase it in the near future? Probably not," said McNally.
Over the past decades, Wholey's has been against GMOs. However, they do sell farm-raised fish. Some studies conducted on farm-raised fish have suggested they can be higher in contaminants.
Despite the uncertainties on farm-raised, Wholey's has been diligent on HAACP: Hazardous Analysis Critical Control Point, an internationally recognized system for reducing the risk of safety hazards in food. Their suppliers send their certification reports every year to Wholey's for their review.
McNally points to tighter regulations on catch limits that help save the environment and supply levels. McNally said haddock, cod, and scallops have all been available thanks to the continued efforts.
"The fishermen do a better job of policing," he said.
There's also been a lot of chatter from the World Wide Fund for Nature and other environmental advocates regarding the issues of overfishing, increased consumption demands, and climate change affecting the fish population in general. Despite these concerns, McNally said he is confident there is stability in the market for a few more years.
"There is always the next fish that comes in — popularity can grow with other substitutes [if another fish variety is unavailable]," he said,  referring to the bronzini, a Mediterranean fish, which has been appealing to customers.
And while the wrecking balls and bulldozers continue to smash the Strip District and redefine its character, Wholey's is ready for the influx of new residents.
"The more traffic, the better we do," he added.