On a typical Saturday morning at the Anne Arundel County Farmer's market in July,  a little stand with fresh cut flowers attracts customers to marvel at Sarah Hultz' creative and vibrant bouquets.
Zang's Farm in Harwood, MD, started its produce operations in the 1980s and the family has been rooted in the Farmer's market since then as one of the founders.
"My first adventure with flowers was with my grandmother — for the zinnias," she said.
At the time, 8-year-old Sarah would help her grandmother put together the zinnia bouquets for sale in the 1990s.  Then, Sarah eventually started to have her own variations in what is currently in two-acre land.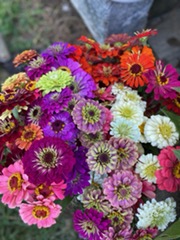 The flowers are field grown and specifically made for bouquets and for her mother's flower shop "Little House of Flowers" in Gambrills, MD, she said.  The rest of the bouquets are available at a roadside stand off Muddy Creek Road in Harwood, weekdays Tuesday-Fridays and all day on the weekends.
Upon returning from college, 30-year-old Sarah started to get involved in flower production and cultivate from start to finish during March 1-October 1.  She grows dahlias, zinnias, celosie, sunflower, straw flower, gomphrena, rudbeckia (coneflower),  amaranth, lisianthus, and herbs like basil, mint, and Asian herbs.  Most of her varieties are late spring and summer flowers.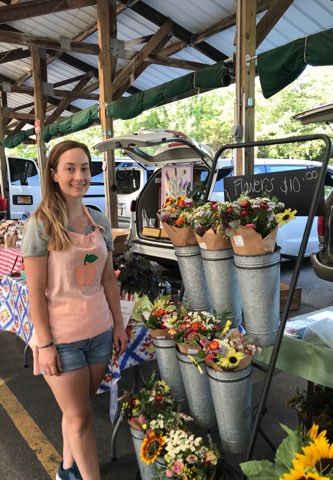 Her hobby has flourished while maintaining a day job as a full-time veterinarian technician. She said she likes the most of her hobby is to grab attention of the customers.
"I like flower types that Safeway or a Giant store doesn't sell or what customers aren't able to grow on their own. You want to think of what other people like, what colors they like, and you have to keep this in mind while growing," she said.
Her source of inspiration? Floret Flowers in Washington state. She said she gets special dahlia tubers from this farm and the gardener is "always 10 steps ahead others" since she is a dahlia breeder.
In the future, she would like a heated greenhouse so they can sell early / late spring season flowers, too.
"My hope is that we are more of a year round flower producer," she said.